Regular price
Sale price
€184,00
Unit price
per
Sale
Sold out
Our notes
These are not a pair of boots just for fashion. 
Built to last years, they will keep carrying on and on with the replaceable Goodyear Welt solid rubber deep tread outsoles.
A pair of Goodyear Welted boots can take up to eight weeks to make, using up to 75 boot parts and over 200 different operations to create. 
The origins of this method go back over three hundred years. 
The method is generally regarded throughout the worldwide boot-making industry as the best way to make superior boots.
As you wear these boots, their fit and comfort will just get better as their components mould to your foot's shape.
Goodyear Welted footwear can be re-soled by stitching the new sole to the welt extending the life of the footwear.   
Cut with Italian 69% bio-based leather formed around a classic 9-eye tactical boot silhouette that hugs your legs. You can polish the uppers to keep them looking new and bring out a shine.

Solid rubber deep-tread Goodyear Welt outsoles with recycled content. Easily replaceable at good cobblers.

Long and strong recycled polyester laces. Keep them loose or lace to the top with the 3 x sets of gunmetal black lace hooks.

Large WVS embroidered recycled polyester pull tab to help pull them on.

Fully lined with tan vegan suede for comfort, air circulation and breathability.
Ethics & Sustainability
This product is certified carbon-neutral
It's delivered to you through our carbon-neutral supply chain in paper and cardboard packaging
You can return it free of charge for 365 days with our paperless carbon-neutral returns service
Use our return to recycle service when this product's at its end of life
Always and forever vegan
Made in Portugal
Read more about our Ethics & Sustainability
Share
View full details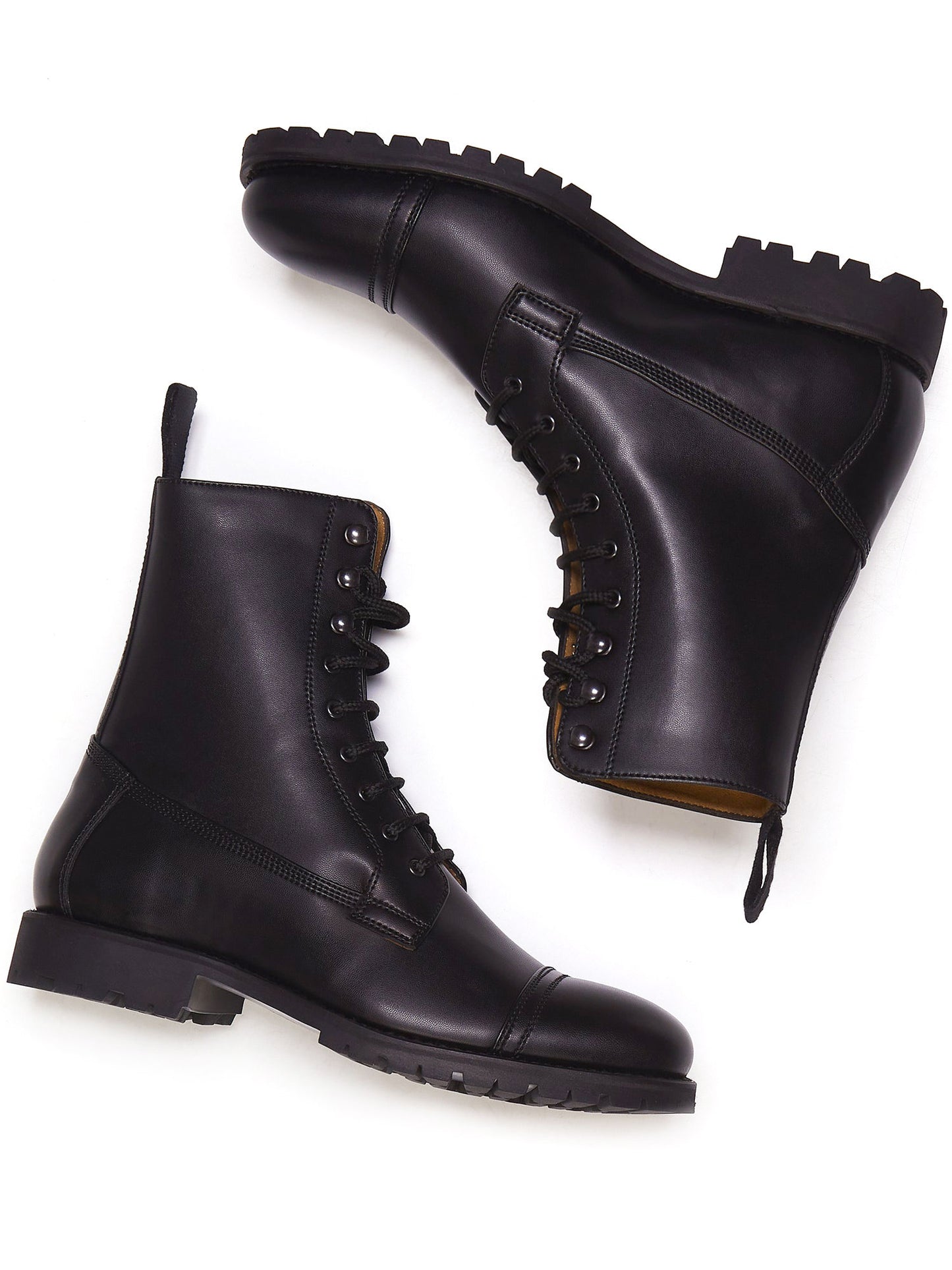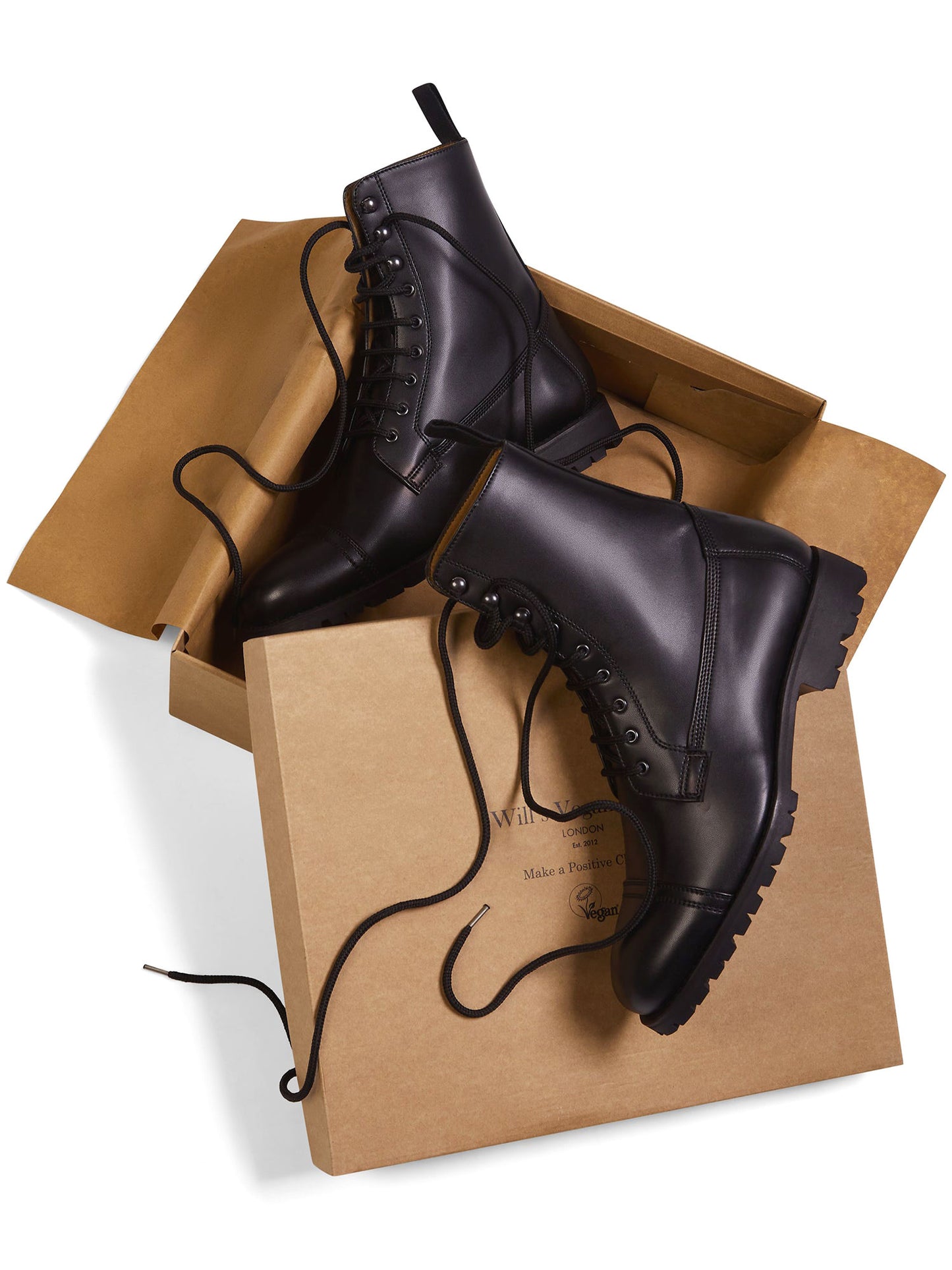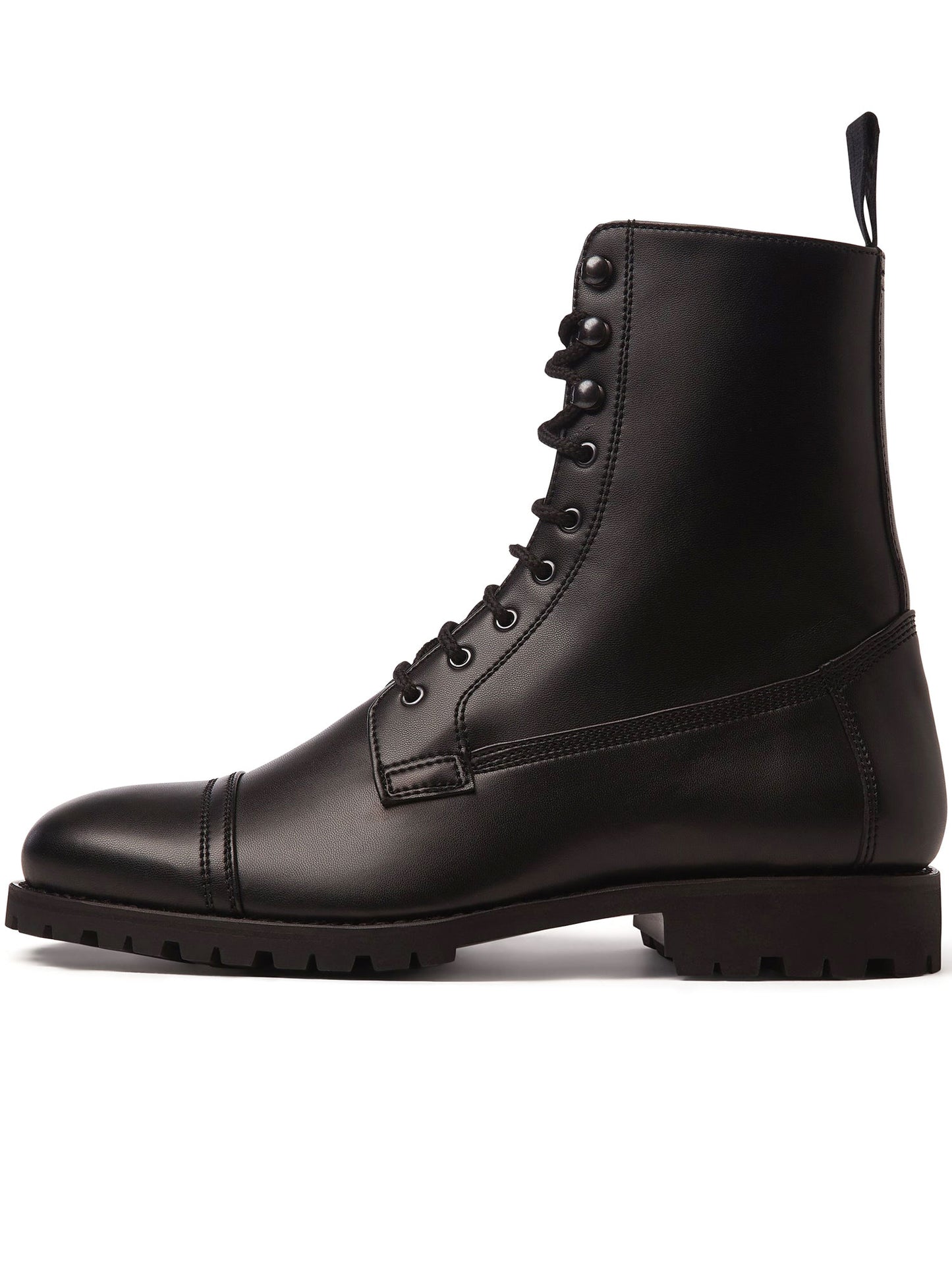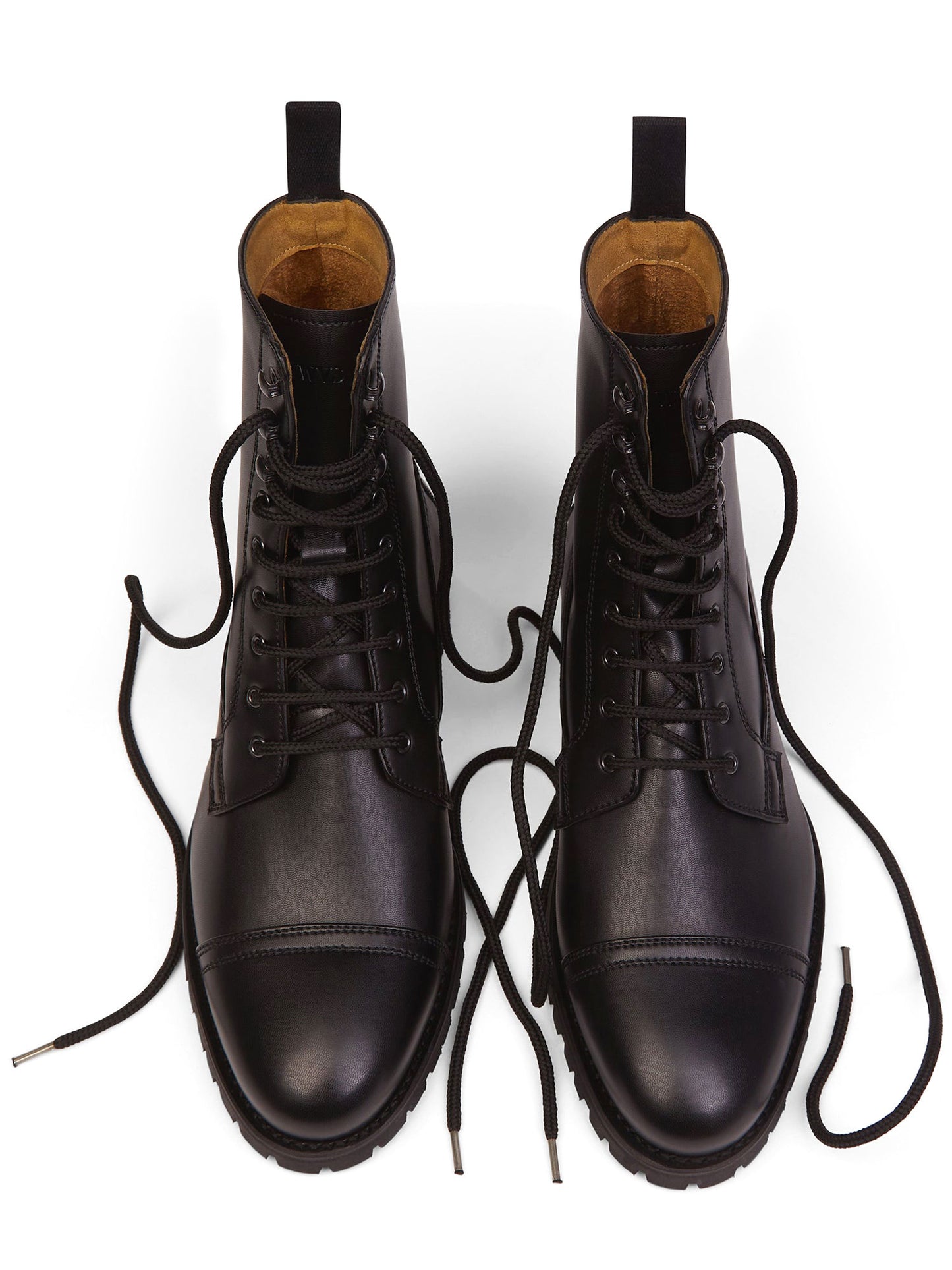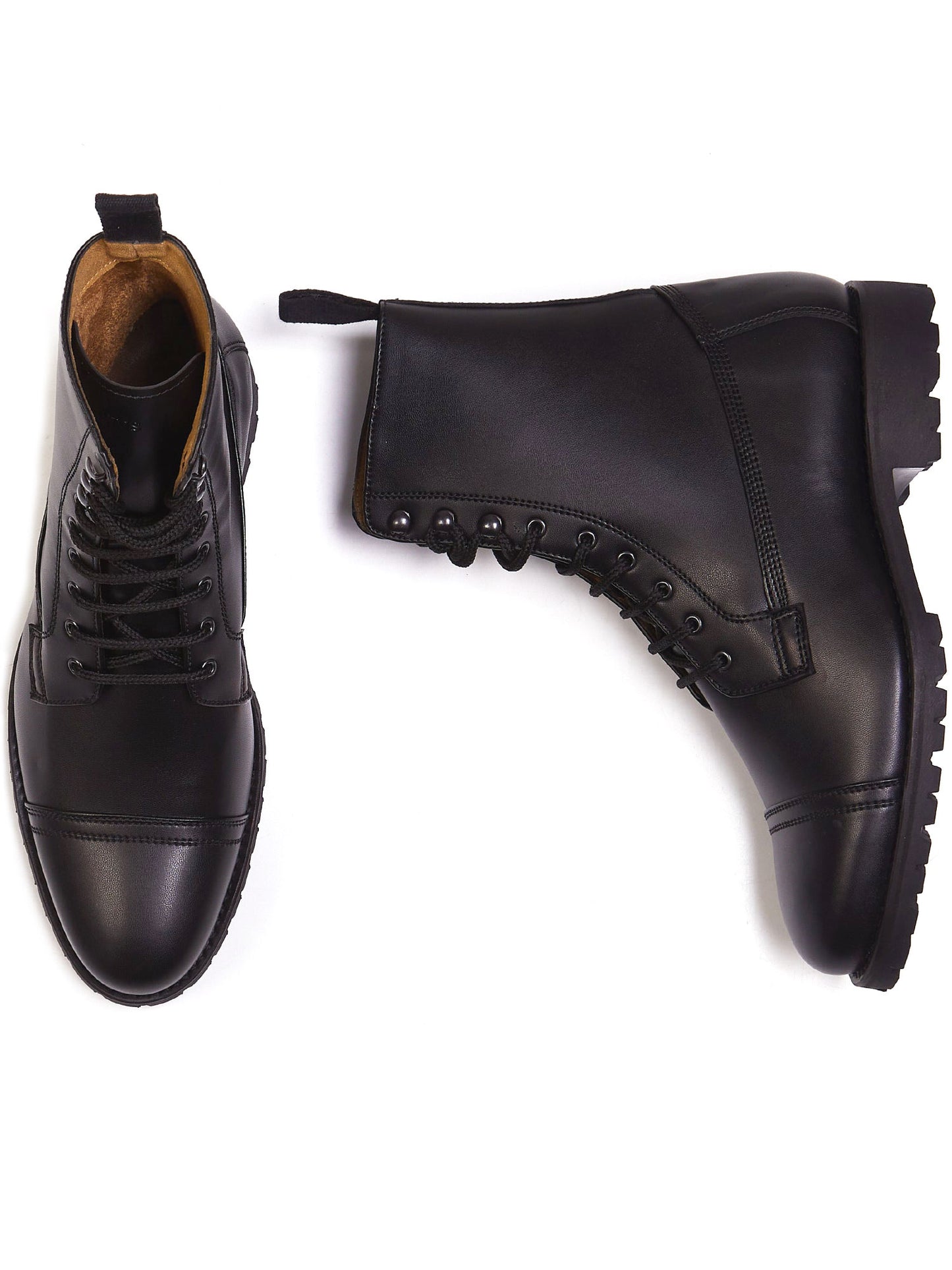 Very sleek
I've always loved boots for their durability and versatility with outfits, but ones like docs always felt too bulky and heavy for me. These are a very sleek pair which are clearly very durable after a good few wears but can also be paired with a dress. I was worried about breaking them in, but I just wore them with plasters on the back of my heels the first two or three wears and they were fine and easy to break in. I had a pair of brogues from Wills that I wore for years and had re-soled twice and gave to a friend when I finally got sick of them, and these boots are sturdier and I imagine will last me even longer. They are more expensive than I usually spend on shoes (I wear runners most of the time) but I'd definitely buy them again and they're similar price to other brands' boots I was looking at. I'm exactly a size 5 (4.5 usually too small, 5.5 usually too big) and these fit true to size, but I have narrow feet, so I'm wearing them with thicker socks. I'm properly in love with them <3
Goodyear Welt Tactical Boots
Classic and stylish boots
I am really happy with these boots, I think they look good with a lot of outfits because of their simple and elegant design. They fit true to size and I had no issue with the width, which is sometimes a problem for me. I've worn them several times and so far no cracking or creasing in the leather as you sometimes see. Seems to be the quality I was made to expect from this brand. This is the second item I have bought from Will's, both have lived up to my expectations. My only complaint with buying from this brand is that items and sizes sell out often and for so long, it's extremely frustrating.
Too bulky, not pretty
Not at all as good as previous model. This one is too bulky so it makes me look short and masculine.
Sleek and sturdy
Very comfortable boot that fits my slim feet very well, soft sole and great in wet weather - no complaints so far! Typical WVS sophisticated looking boot, very happy with it so far!