Regular price
Sale price
€241,00
Unit price
per
Sale
Sold out
Our notes
This understated and sophisticated coat is a timeless style you're sure to wear for years. Tailored in Italy from "vegan wool" made from Greenpeace DETOX & Oeko Tex® standard 100 certified cotton (certificate 1108929.0). It's designed in a loose, single-breasted silhouette with shoulder pads made from 100% recycled polyester. The front of the jacket is fastened with two matt finish buttons made from recycled compressed paper and resin (Oeko-Tex® Standard 100 certified). You can put your carry essentials into the two deep slip pockets. To keep you warm there is a 60g thermal insulated lining made in Italy from 100% recycled polyester (100% RPU certified to ISO 14021:2016, Oeko Tex® standard 100 certificate 960031.0). It's loose cut also makes it perfect for winter layering over one of our chunky knits, pop the lapels on those super chilly days. The Italian made REACH certified viscose lining ensures smooth layering, and being in black means it'll go with nearly anything. Like everything we make & do, our clothing is certified Carbon Neutral. There is no packaging waste, we only use biodegradable plastic free packaging from the paper bags to the paper tape we use to seal them. Your delivery is certified Carbon Neutral, if you choose to use our 365 days free returns and exchanges service, that is certified Carbon Neutral too. This Structured Vegan Wool Coat is ethically produced in small batches in the heart of Tuscany, Italy. SUSTAINABLE // ETHICAL // VEGAN FASHION
Tailored in Italy from "vegan wool" made from Greenpeace DETOX & Oeko Tex® standard 100 certified cotton (certificate 1108929.0)
Designed in a loose, single-breasted silhouette with shoulder pads made from 100% recycled polyester
Designed in a loose, single-breasted silhouette with shoulder pads made from 100% recycled polyester
The front of the jacket is fastened with two matt finish buttons made from recycled compressed paper and resin (Oeko-Tex® Standard 100 certified). You can put your carry essentials into the two deep slip pockets
Italian made REACH certified viscose lining ensures smooth layering
Ethics & Sustainability
This product is certified carbon-neutral
It's delivered to you through our carbon-neutral supply chain in paper and cardboard packaging
You can return it free of charge for 365 days with our paperless carbon-neutral returns service
Use our return to recycle service when this product's at its end of life
Always and forever vegan
Made in Italy
Share
View full details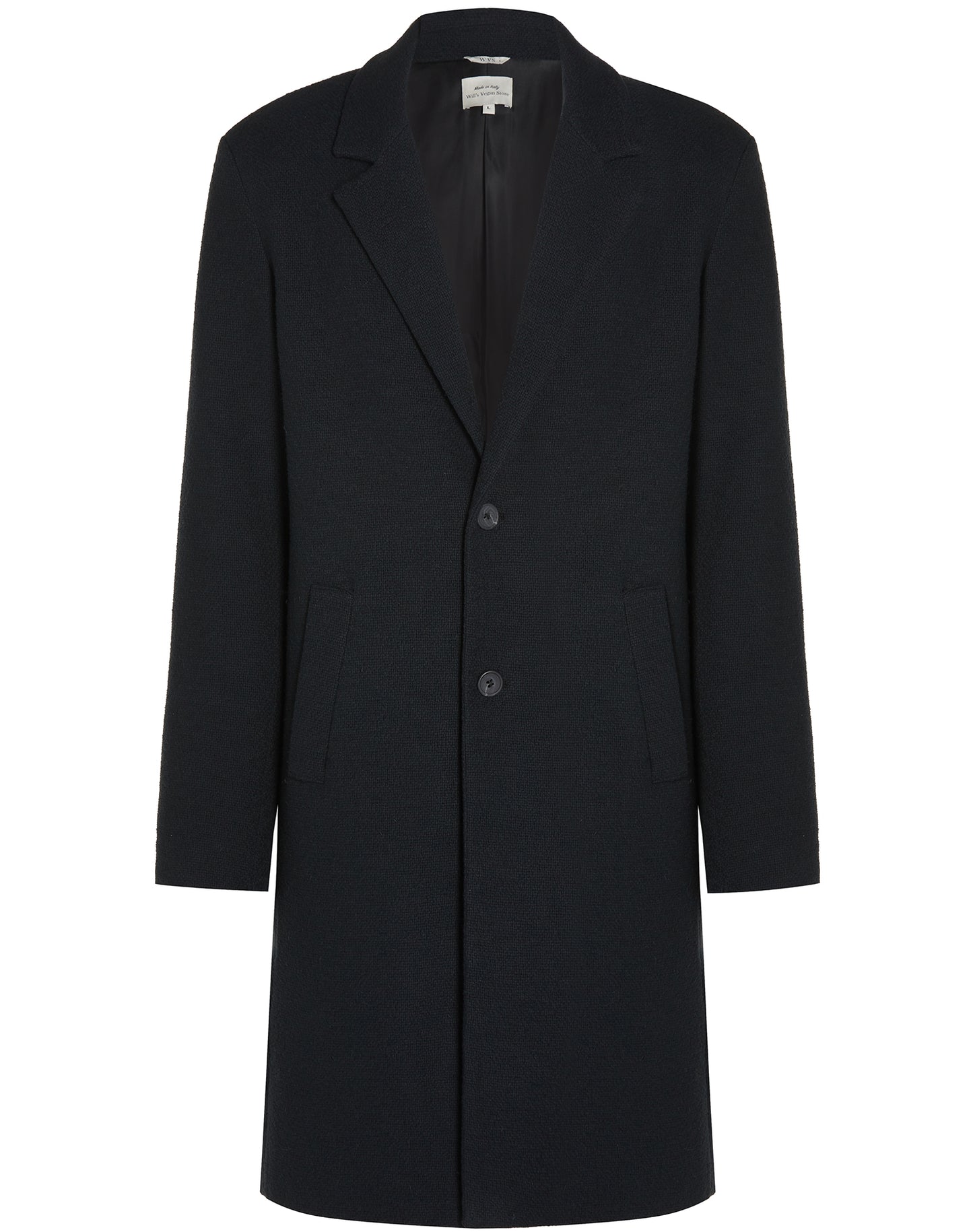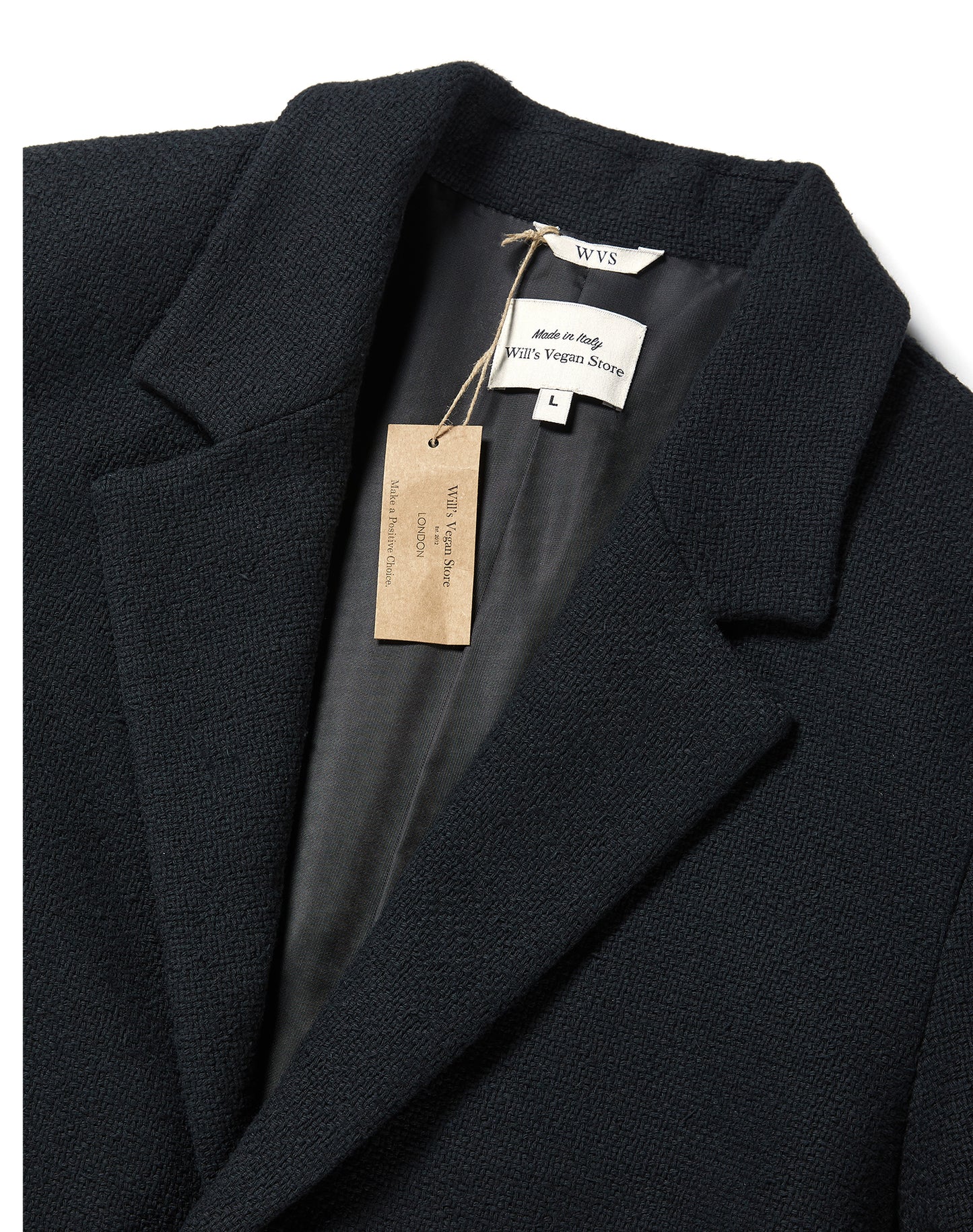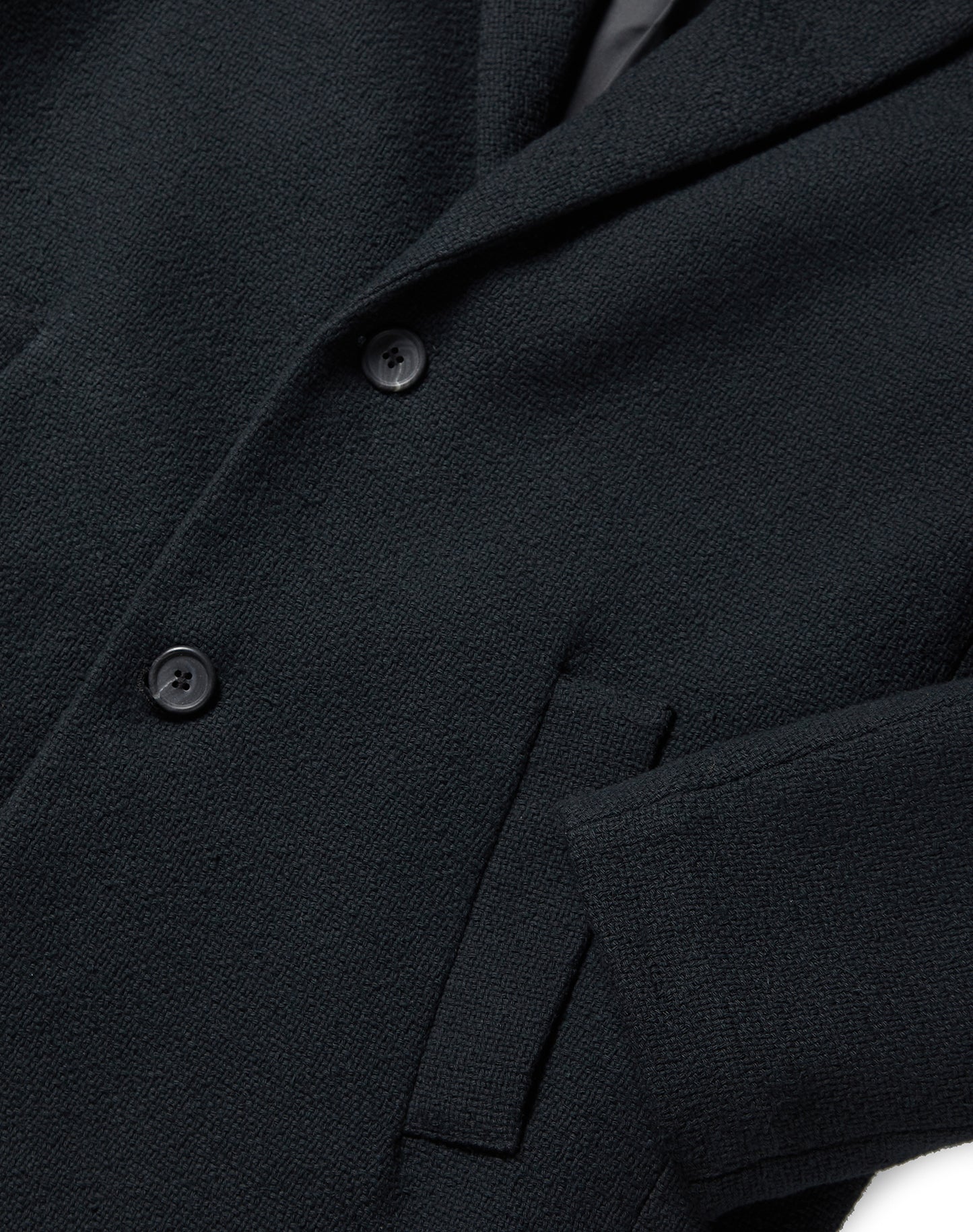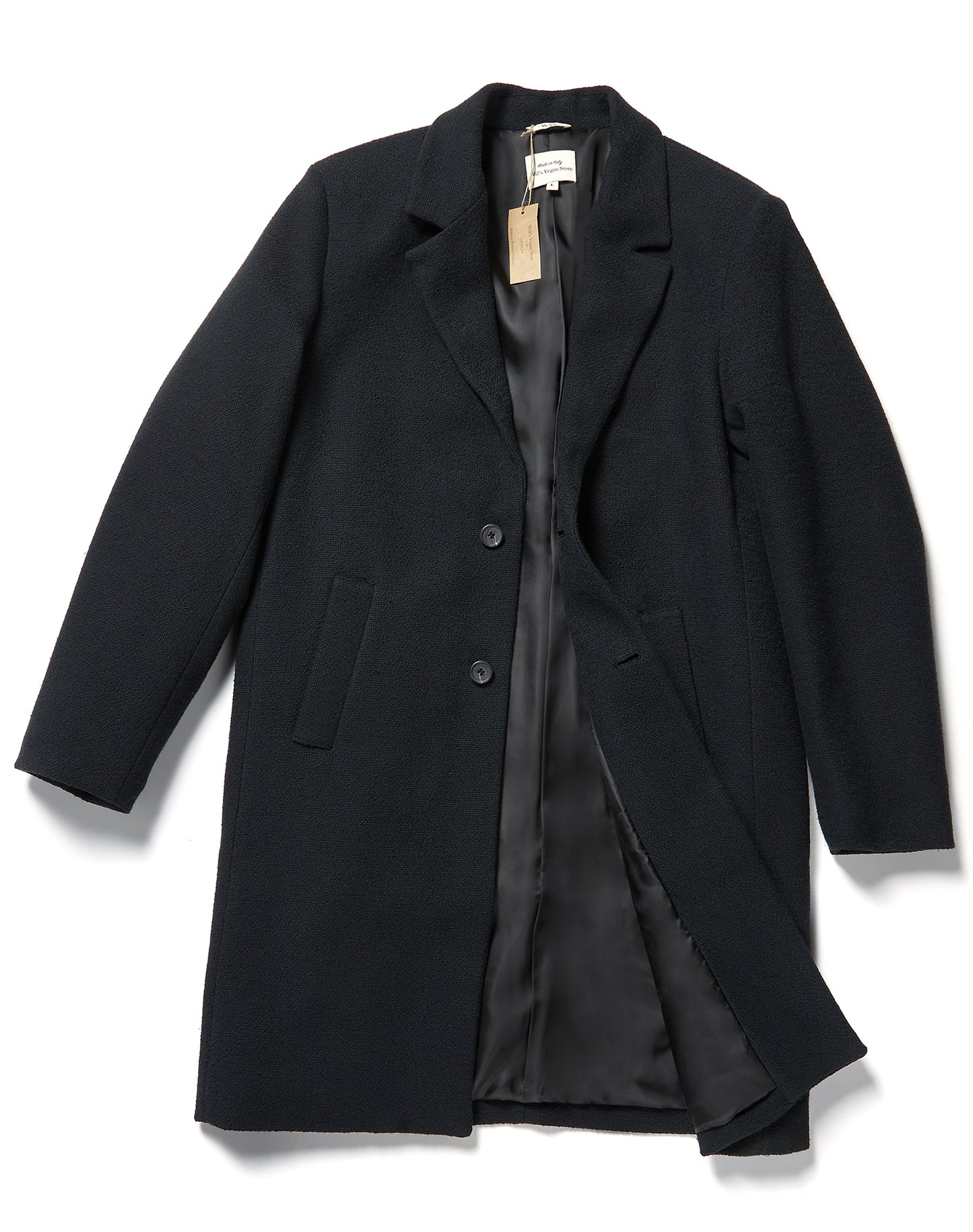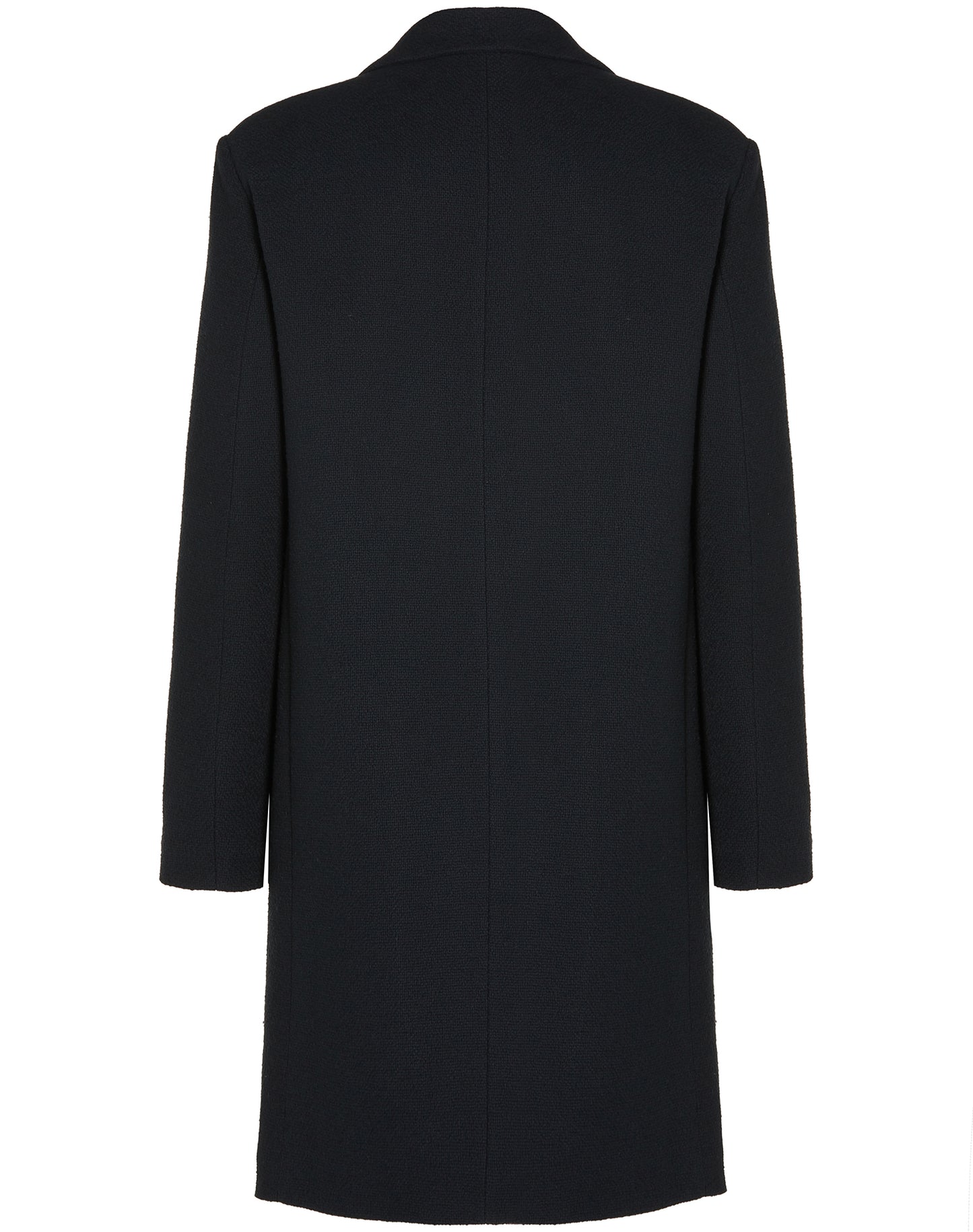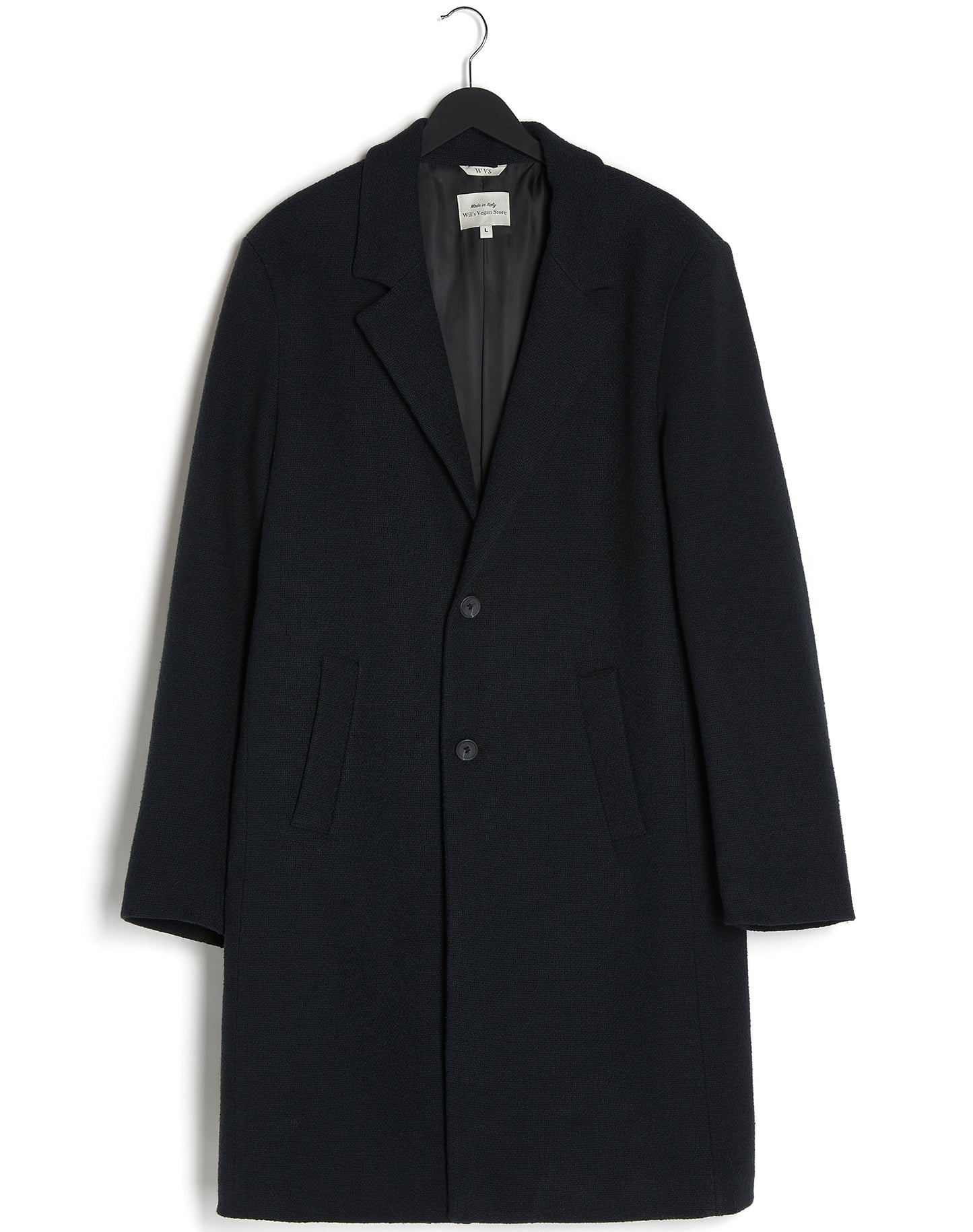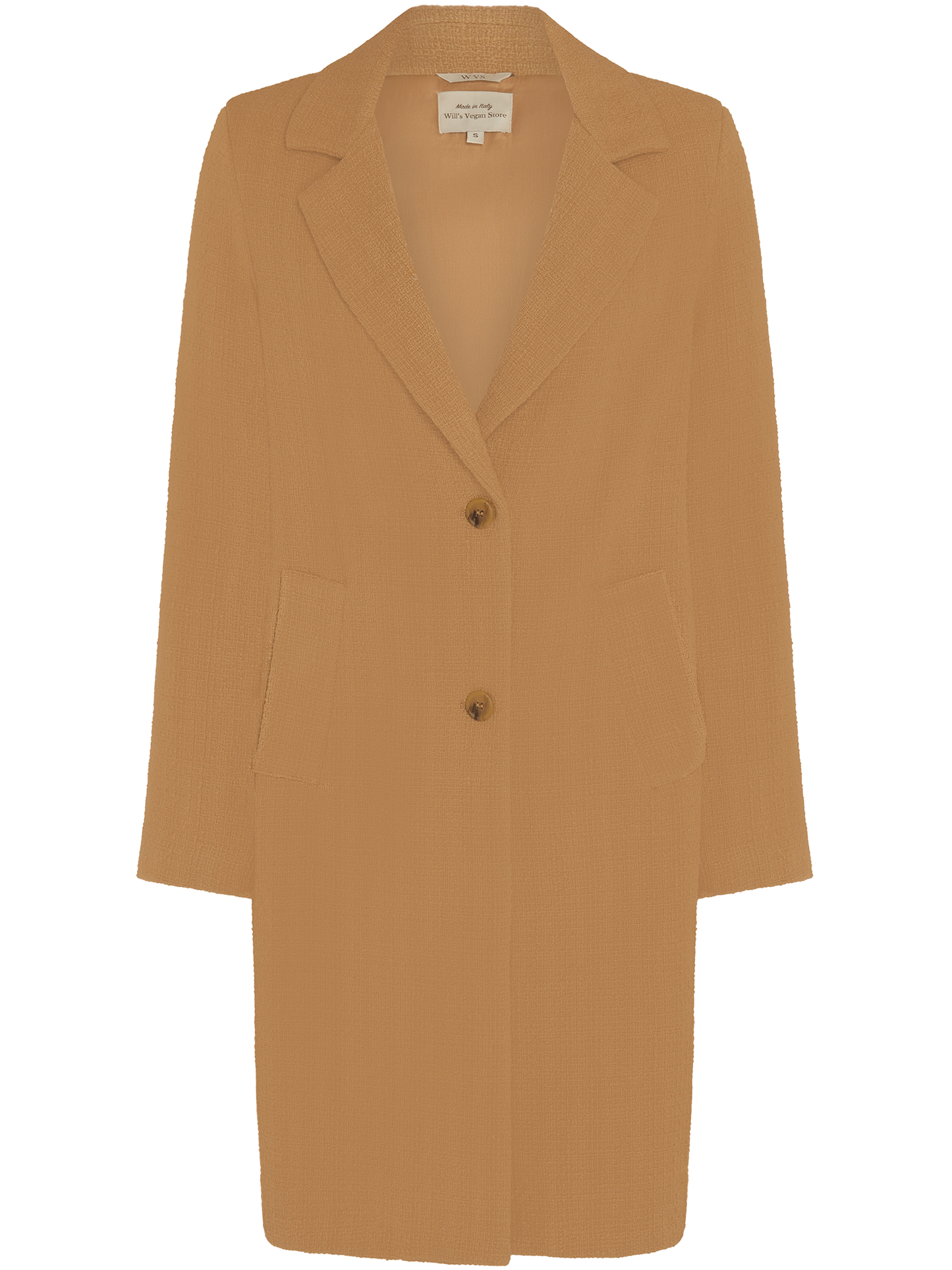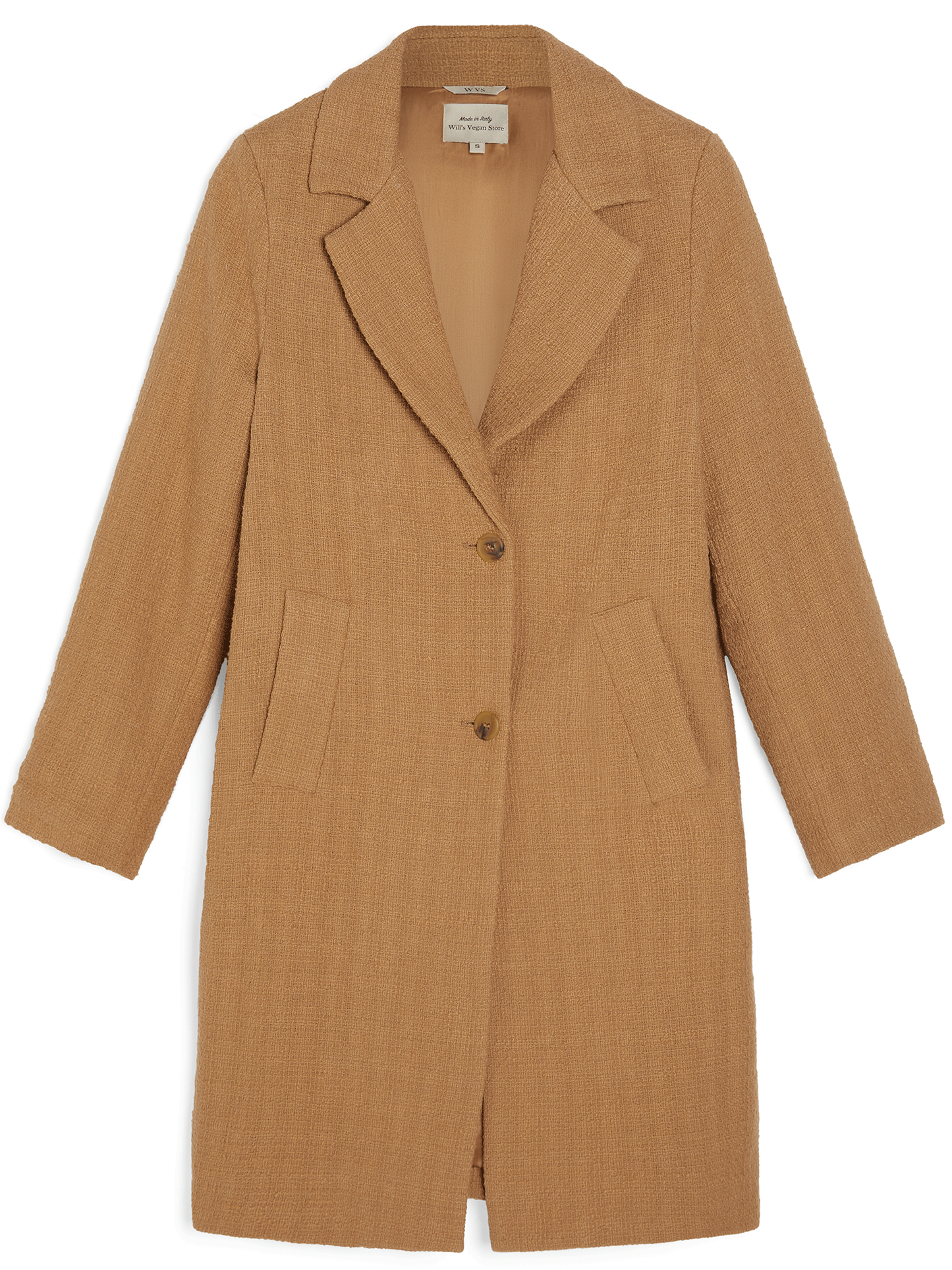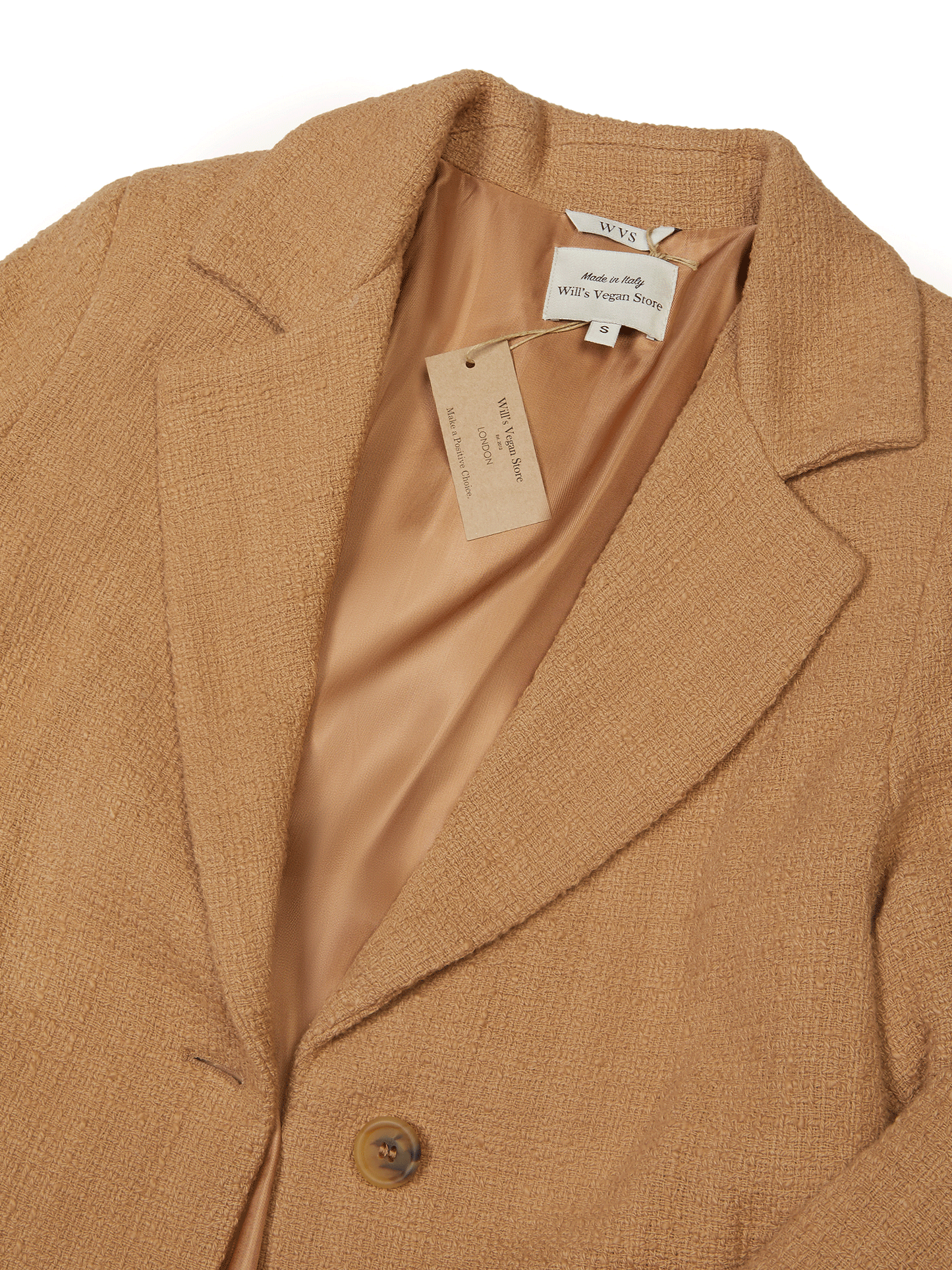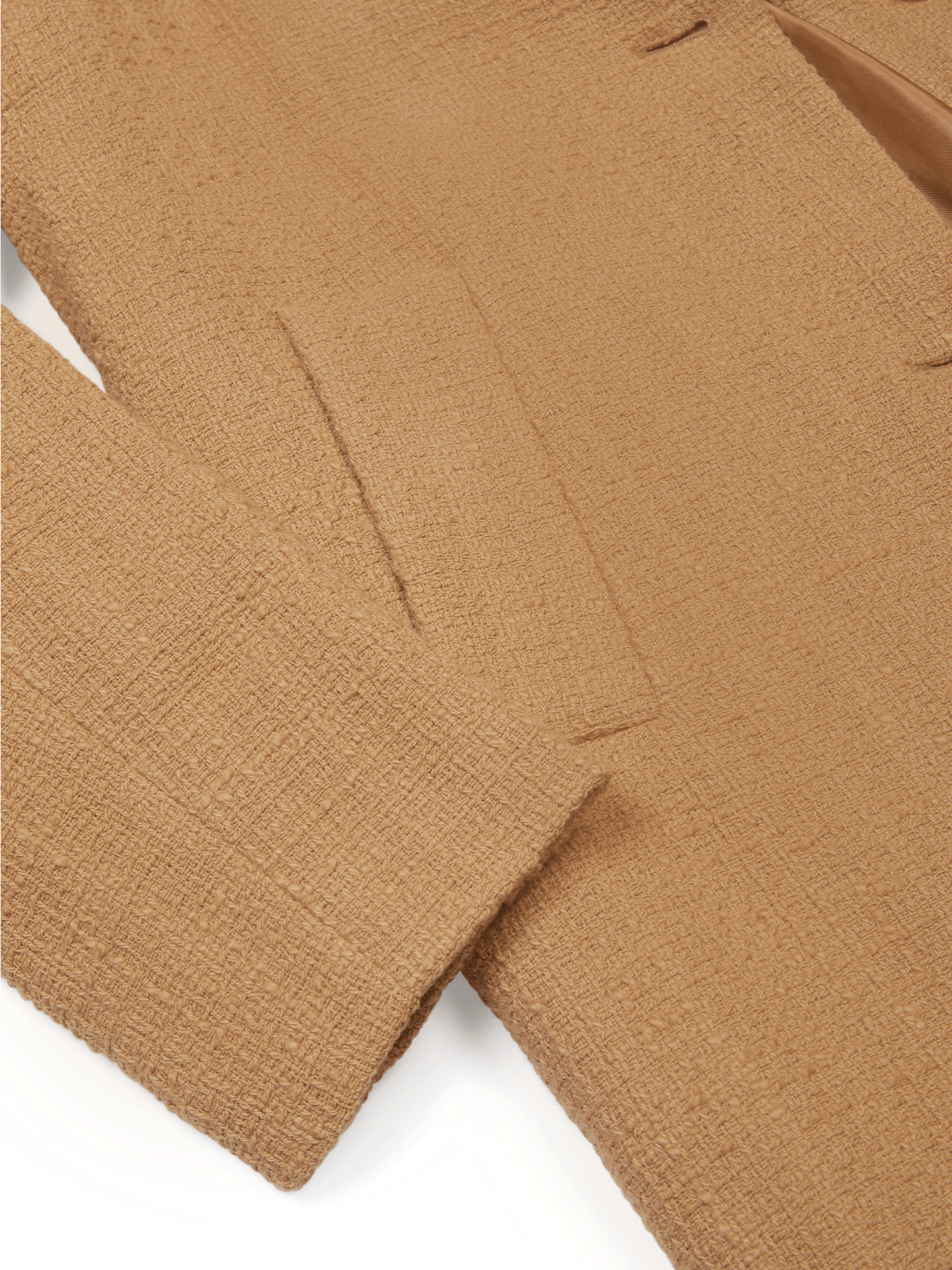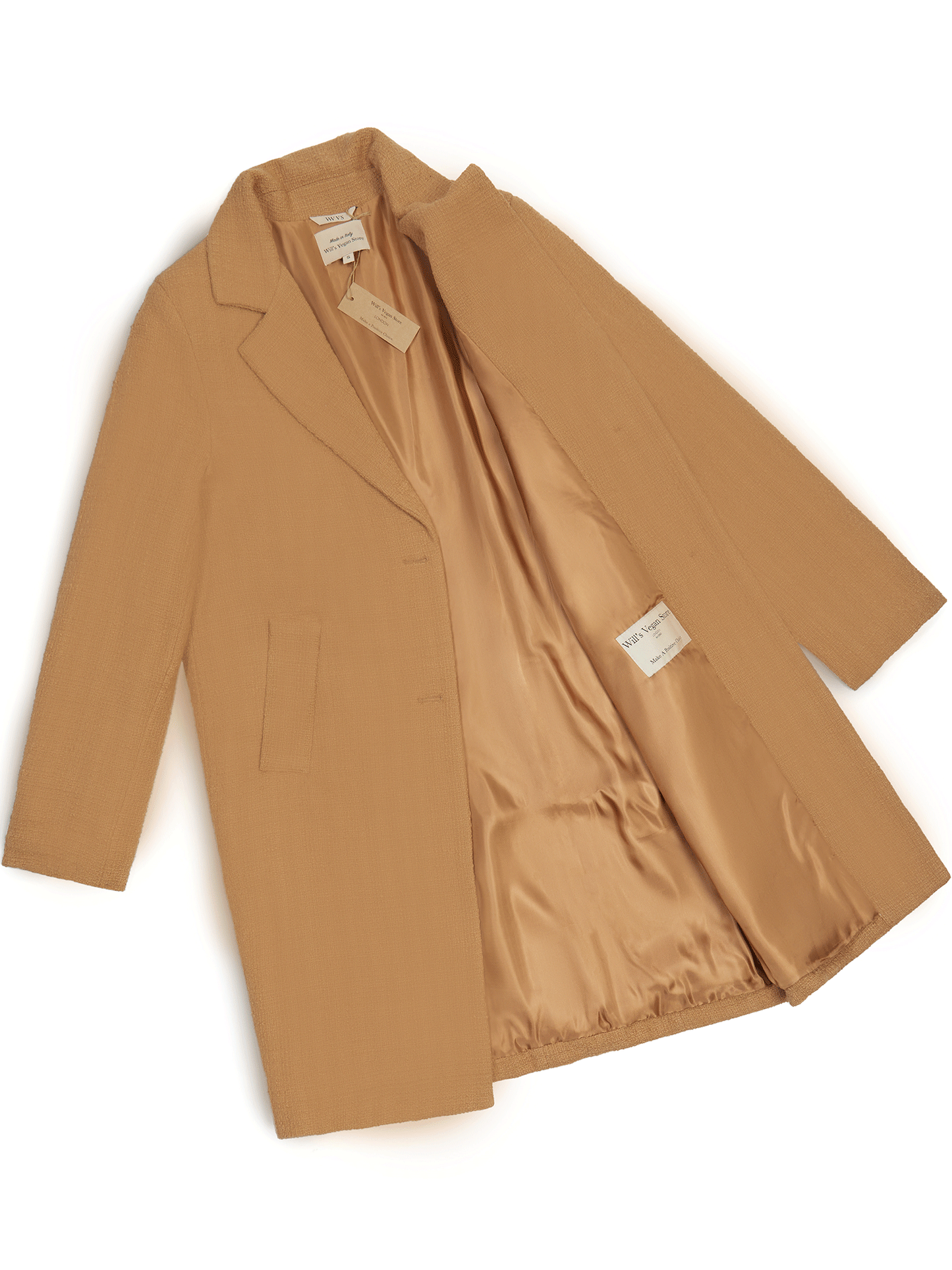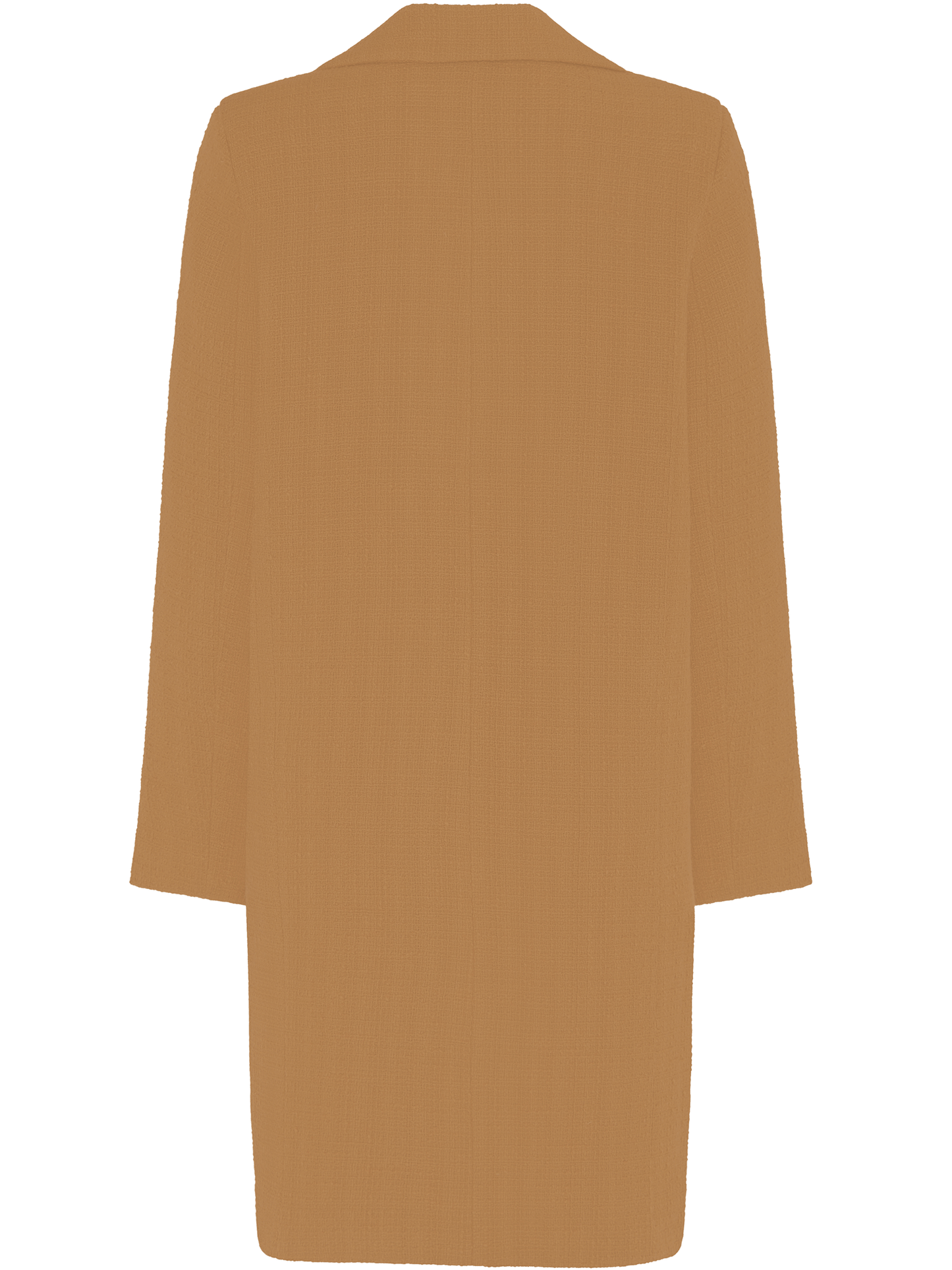 Fantastic coat
This is a one-of-a-kind, classic style, vegan coat. I'm incredibly pleased with it.
Breast pocket
This coat would be perfect if it had a breast pocket for a hankie and came in bigger sizes.
Been looking for a vegan crombie for years and years.
High quality vegan wool coat ! But…
I bought this lovely vegan wool coat, the quality is really good and warm as well, it's very nice for cold season. I am sure that I will be able to use it for long time.

BUT, the problem is the size, mine is normally medium, (around 170cm 65kg), ordered the medium and found out the actual size is completely big. So I just asked swapping to small size, paid more than £50 for just exchanging (I'm currently in England maybe because of it). I simply didn't know the fee and asked, but no replying about it. Even in the small size I still need to adjust the arm length.
Finally, what I wanted to say is the customer service is just not good. I hope better people who can understand customers and explain enough will be in Will's.
P.S…. A needle came out from the left side of this coat, please be careful when you wear it. Don't get me wrong, the quality of this coat is good…
Hi,
I am really sorry we missed your message about the charge for the exchange. I have just replied back to you.
We will refund this charge in full. Your exchange was sent from our Netherlands warehouse to the UK (as we were out of stock in our UK warehouse).
DHL made an error in sending the charge to you, it should have been set for us to pay.
Just to say, we no longer send anything from our Netherlands warehouse to the UK. All UK deliveries are now sent from the UK. You also should never pay anything for a return or exchange at any point. If for any reason you are charged anything, we will always cover the cost.
I am sorry for the needle in the coat I will let our factory in Italy know so they can avoid this happening again.
I am here to help if you have any questions or if I can be any more help at all,
Will
Entsprach nicht meinen erwartungen
Ich finde der Mantel hätte wirklich gut aussehen können, aber leider hat er keine Glatte Struktur wie ein normaler Mantel. Die Struktur sieht meiner Meinung nach einfach nicht gut aus. Ich trage normalerweise M aber weder M oder S haben mir gepasst und waren eher wie XL / XXL.
All I ever wanted..
..Was a well fitting long coat, that wasn't made of wool!
Will's did an excellent job on the style and quality of this coat. Fits really well, soft and stylish, I couldn't ask for a better coat. I ordered a size too large, and customer serviced did an amazing job resolving the issue and sending a replacement asap.. As always their customer service is at the same quality level as their product.
Would definitely recommend this coat, and buying one size under your typical winter coat size.
Hope to have this for years to come!!! - thanks!